Shopping Cart
Your Cart is Empty
There was an error with PayPal
Click here to try again
Thank you for your business!
You should be receiving an order confirmation from Paypal shortly.
Exit Shopping Cart
FRAK EARTH
For the nerd in all of us
If you're like me and are looking for something to do, watch or read, then here's a helpful list to give you tons of awesome things to do, while you wait for the Doctor and the TARDIS to fly back onto our screens
Read The Hunger Games
The Hunger Games is a very well written triliogy that tells the story of a young girl forced to compete in a life threatening event in order to save her sisters life.  It's a futuristic story, but honeslty, it's a bit creepy just how real this could one day become.. But it's not jus the books that are awesome.. This March, Lionsgate is released the first instalement of the triloigy in theaters!  So if you're in the mood to read an excellent story about a kick-ass chick, then pick up The Hunger Games.
Watch (and read) Game of Thrones
If you're not watching HBO's Game of Thrones, then you're missing out on some of the best fantasy on the small screen.  I think most of us have gotten used to seeing excellent fantasy on our movie screens.  Lord of the Rings and Harry Potter are two of the best examples that I can think of.  Game of Thrones is a more adult version of Lord of the Rings.  It has the same elments, such as people trying to siege lands and crown kings.  But the awesome thing about Game of Thrones is that it's actually based on a series called A Song of Fire and Ice by George R. R. Martin.  Whether you're an avid reader or fantesy lover, Game of Thrones is probably for you.
Watch Original Doctor Who
This one seems pretty obvious, but most fans of the New Who are around my age, and weren't alive when the original Who was on the air.. Which is one of the reasons why I've never seen any of the Original series.  I've recently considered myself a huge fan of Doctor Who, since I've finaly caught up completely with the Matt Smith seasons, and wached all of the 9th and 10th Doctors'.  But, the truth is, I still don't know much about the earlier Doctors'.  
Watch Torchwood
This one may seem as obvious as watching Original Who, but Torchwood isa great way to get even more invested into the Doctor Who universe.  If you're like me, and haven't seen all of Torchwood, then I think you'd understand why were both confused as to how Jack shows up during the season 4 finale..  Captain Jack is one of my favorite charcters on Doctor Who, and honestly after seeing the cast at Comic-Con this year, it's almost neccasry that I start watching Torchwood.  Fair warning, Torchwood is for a bit of a different fanbase than Doctor Who.  Torchwood is aimed at adults, and deals with more sexual situations that Doctor Who.  (IE: in the second episode of Torchwood, the alien gets its power through having sex...) 
Read Harry Potter
This may come as a shock to most of us, but not everyone has read or seen Harry Potter.. (SHOCKING.. I know) If you're a big Doctor Who fan, it only seems logical that you would also love Harry Potter and other scifi or fantasy series'.  Matt Smith's Doctor does remind me a lot of Harry, while Rory and Amy, remind me quite a bit of Ron and Hermione..  Doctor Who has tons of devoted fans, just like Harry Potter.. But fair warnign, both Doctor Who and Harry Potter are highly addictive.. Read at your own risk!!
Go to a Con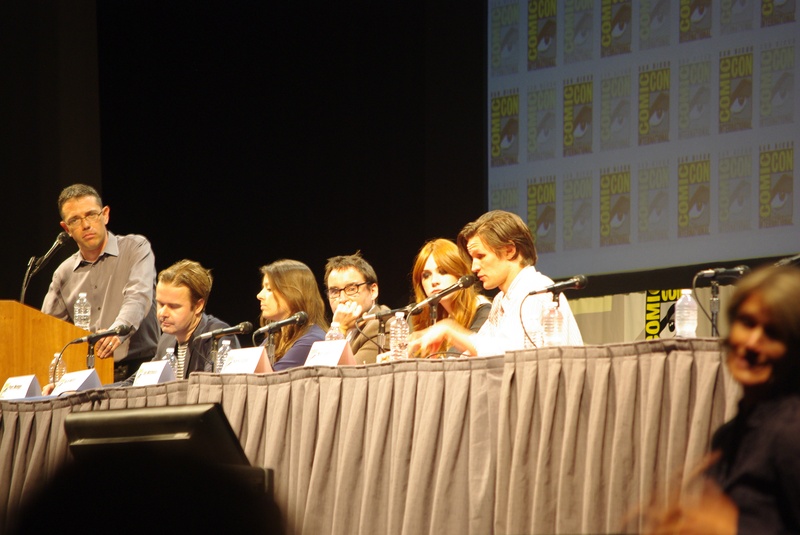 This doesn't mean that you have to wait all year to go to Comic-Con.. (I wish I had a TARDIS) But, sometimes going to smaller conventions can be more fun than attending a bigger Con like SDCC.  Why?  Because you can interact with the actors for a longer period of time than at Comic-Con.. And honestly, it's usually less expensive, and you can usually sleep in, since no one at the local cons is going to be in line to enter Hall H at 4 am.  If you live in the UK, then I would really encourage you going to a Con like I did which is put on by the London Entertainment Media company.  For those of you living in the states, check out NYCC or Wizard World.  
Categories: Doctor Who, The Hunger Games, Harry Potter
/