Shopping Cart
Your Cart is Empty
There was an error with PayPal
Click here to try again
Thank you for your business!
You should be receiving an order confirmation from Paypal shortly.
Exit Shopping Cart
FRAK EARTH
For the nerd in all of us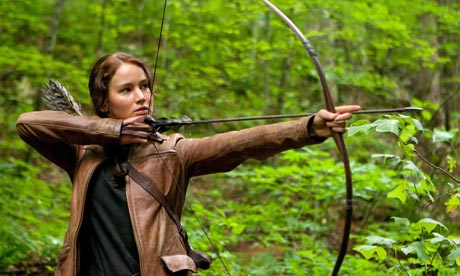 Taking a break from my comic-con obsession, Lionsgate announced yesterday that they were splitting Mockingjay, the final Hunger Games book, into two parts. The first part is set to be released on November 21, 2014 and the second part will follow a year later on November 20, 2015.
Splitting books in a popular series into two parts seems to be a recent trend that Hollywood has dug their fingernails into.(See: Harry Potter, Twilight, Hobbit etc) Harry Potter was the first to do it. They announced the split for Deathly Hallows, and Twilight soon followed with their own announcement pertaining to Breaking Dawn. In my personal opinion, I would have preferred the earlier books in Harry Potter to be split. (IE: Order of the Phoenix, Goblet of Fire..) But splitting Deathly Hallows made sense for them. Every movie after Prisoner of Azkaban felt extremely rushed, and if the viewer hadn't read the books, they'd get confused pretty easily. I honestly don't know how people who didn't read Deathly Hallows knew what was going on in the movie(s). I had to explain to my brother a few times what a horcrux was and how Harry suddenly knew what they were/what they looked like, since in the movie, Harry spent relatively no time discussing this with Dumbledore.
I've read all the Twilight books and I still can't figure out why Summit decided to split the last book into two parts. Obviously, it's about the money and not the story, which is quite sad. The final Twilight is bound to make millions of dollars at the box office, but will the Hunger Games fandom be willing to stick around for three more years to wait for the culmination of the saga. I feel like Hunger Games should have tried to make the final part come out in July or June of 2015, just like Harry Potter did. Fans wouldn't have to wait that long for the final film, but since when has the studio truly cared what fans thought.
I'm assuming that Avengers 2 will be slated for summer 2015 (I need a TARDIS NOW) and this could be why Hunger Games is pushing part 2 back until November 2015. Lionsgate doesn't want to directly compete with one of the highest grossing movies of all time. The Hunger Games films already have lots of fans, vocal fans, who are anxiously waiting for the announcement of casting for Finnick!! I'm expecting that as the Hunger Games films begin to add more and more stars (they just added Philip Seymour Hoffman) they can use that to attract more fans. Harry Potter was one of the best franchises at doing this. Take some notes Lionsgate!
I've read all the books in the Hunger Games trilogy, and I think many fans would agree that Mockingjay is the weakest book in the series. It's my least favorite, and I honestly didn't enjoy the ending. One of my best friends has been pressuring me to reread the final book because she really loves it, but I think she's one of a small few who would agree. I know the filmmakers can't change the ending, not that I want them too, but how exactly are they going to have enough material to make two entertaining movies?
What do you think of Lionsgate splitting Mockingjay into two films?
Categories: The Hunger Games
/