Shopping Cart
Your Cart is Empty
There was an error with PayPal
Click here to try again
Thank you for your business!
You should be receiving an order confirmation from Paypal shortly.
Exit Shopping Cart
FRAK EARTH
For the nerd in all of us
The Hunger Games blew people away last weekend and had one of the biggest opening weekends in box office history.  But why was this movie so successful?  I've read tons of articles about how this series would actually be cooler as a movie trilogy, than a book series, which is why it did so well this weekend.  Book series like Harry Potter are a much better book series than movie saga.  But why was it so successful?  
Jennifer Lawrence
This list would be inaccurate without mentioning the movie's star first.  This entire movie (and the future of the franchise) rides on one girl, Jennifer Lawrence.  Even though she's only 21, she's already earned herself an Oscar nomination.  When the movie was cast, and word reached fans that the older Lawrence beat out fan hopeful Hailee Steinfeld for the role, even I was doubtful that Lawrence could pull it off.   But once I saw the movie, I knew just how wrong I was.  Lawrence was perfect. She was able to show all sides of Katniss through her dealing with volunteering for her sister at the reaping, or feeling responsible for Rue's death.  This movie would have crashed and burned if it was headed by an actress who couldn't deal with the crazy fans or someone who looked bored during the interview cycle.  But Lawrence comes off as a genuinely nice person in all of her interviews.  As Lawrence goes deeper into the series I have the upmost fate that she will be able to encompass everything that Katniss becomes.  
The adaptation from book to movie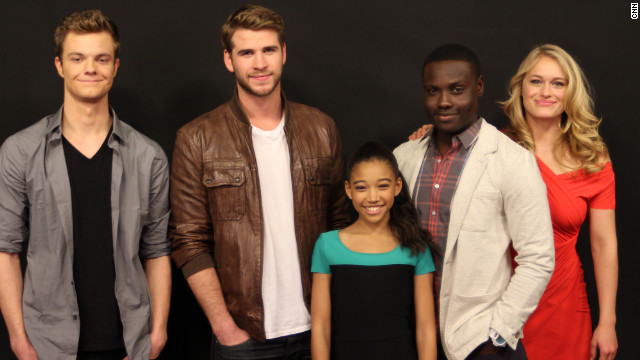 You could make a great case that the one reason this movie is so successful is because it stays so close to the book. Although book readers will always look for the differences, and focus on that one moment that is different from the books, this movie stays true to it's material.  The first draft of the screenplay was written by Hunger Games author, Suzanne Collins, who got her start in screenwriting.  If the author herself can write even just the first draft of a script, it shows just how passionate she is about keeping the movie true to the books.  Collins, like most fans, understands that not every single detail from the book can make it to the screen. The studio wanted to make sure that this movie could stand as a stand-alone movie, which I think the film accurately does.  Fans of Harry Potter will be the first to tell you that every movie forgot hundreds of details from the books, and always sparked tons of debate online about just how good the movie was.  But this adaptation was able to capture a girls journey in protecting her sister. 
The marketing scheme
If you watch the first trailer again, you'll notice that no footage of the actual games is shown.  The trailer only gives us the basic information, a girl lives in a run-down town and volunteers for her sister to fight in some big event.  Lionsgate also didn't test the movie with any audience, which could have turned out very badly if the movie hadn't received such stellar reviews from fans adn critics alike.  Potter and Twilight both suffered enormously from releasing too many spoilerly clips, and showed far too much in the trailers to keep anything a secret from fans.  I once calculated how much of the 7th Harry Potter film I had seen just from clips and trailers alone and added it out to just over 12 minutes of footage.  That's insane. Studios need to start following in Lionsgate's footsteps and leave more to the imagination of the audience.  
Not opening in 3D
It seems that every movie, comedy, action, romance, animated, all open in 3D, even if the audience doesn't want it too.  I can't be the only one that hears that unmistakable groan when the OPENS IN 3D is spashed at the end of every trailer shown in theaters.  3D movies can be awesome, and shouldn't just be used as a way for studios to make an extra $4 on ticket prices.  By not opening in 3D, Hunger Games is distancing themselves from other franchises that have converted the film to be shown in 3D theaters.  
Accuretly captured Katniss on film 
Although I've already mentioned how much of a success Jennifer Lawrence was in the film, Gary Ross's ability to capture everything Katniss is feeling in the books is shown very well on the screen.  The Hunger Games was always going to be a challenge to get on film because of the books first-person narrative.  My friends and I spent ages before the movie talking about how the movie could show Katniss dealing with faking a relationship or thinking about outsmarting the Game Makers.  And after our first viewing, we all thought the movie accurately captured Katniss.  We see her visibly shaking when she's about to enter the arena for the last time.  We also see her lose her composure when she loses Rue in the games.  Even her freak out over thinking Peeta had died (sorry Glimmer) came off as genuine and might have been my favorite altercation between the two.  
Categories: The Hunger Games
/