Shopping Cart
Your Cart is Empty
There was an error with PayPal
Click here to try again
Thank you for your business!
You should be receiving an order confirmation from Paypal shortly.
Exit Shopping Cart
FRAK EARTH
For the nerd in all of us
During the Once Upon A Time season finale last night fans were treated to their first glimpse of Marvel's Agents of S.H.I.E.L.D. Although it's fairly short, it does show that Coulson indeed lives.  I have no idea how Marvel is going to explain his being alive after his obvious death in Avengers, but I'm sure fans will love it....
Read Full Post »
Twitter exploded when photos from the set of S.H.I.E.L.D. were tweeted earlier this afternoon.  Although the photos show nothing about the actual show, you can see super cool picutres of Joss and his awesome sneakers!
S.H.I.E.L.D. has been confirmed to be set after the Avengers battle in New York, which means Coulson is...
Read Full Post »
Have you got an easy semester ahead or tons of free-time??? Then scroll down to read about 8 awesome shows you should add to your watchlist.  I excluded several of my favorites (Buffy, BSG, and Doctor Who).   The following shows are personal favorites of mine- some of my go-to TV shows when I'm down, bored or unsure of what to watch.  We all have our favorites, ...
Read Full Post »
It isn't everyday the world survives an apocalypse, but if you've been on Facebook, Tumblr or Twitter, you know the world has survived 'the end'. The Mayans predicted the end of the world, but what they didn't take into account was one badass girl (Buffy Summers) from Sunnydale.  
To put it in the Slayers' own words,"If th...
Read Full Post »
Marvel fans at NYCC were treated to a surprise when Joss Whedon and Kevin Feige announced via video that Clark Gregg would be starring inSHEILD!  This is the first big news we've heard about the project.  I'm not sure when SHIELD will take place within the Marvel cinematic since Clark Gregg died during Avengers.  I personally am hoping th...
Read Full Post »
Marvel is quickly moving on from the success from Avengers and is set to release the trailer from Iron Man 3 shortly.  Fans at SDCC were treated to 5 minutes of footage.  A few days ago, Marvel showed the Iron Man 3 trailer at an Avengers Blu-Ray release party in London. Many are thinking that Marvel will be releasing the...
Read Full Post »
Wow. I can't believe another Con has come and gone. It doesn't seem possible. It was an Interesting Con to say the least. I was only able to make it for Saturday and Sunday, and because of this, I barely slept for just the two days I was there. I was stressed about stuff going on th...
Read Full Post »
We all know that Joss Whedon has a knack for screenwriting (duh!!) so take a look at some of these awesome memes that show just how Joss has managed to fix almost every movie!
Fair warning: This is hilarious!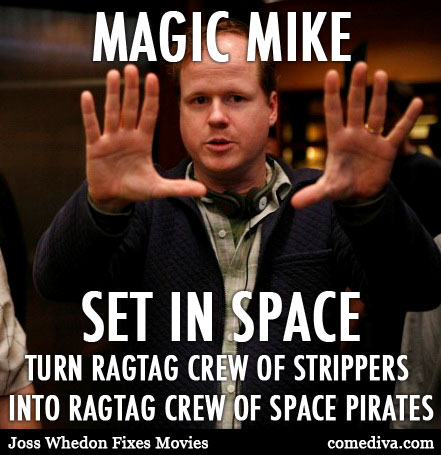 Read Full Post »
If the Internet had their way, the answer would be a resounding YES! But alas, this awesome rumor is based on pure speculation that Disney will re-release Avengers because they want to take the number one all time box-office spot. This three hour cut would be what Joss Whedon has been alluding to in interviews when he stated that his first assembly of the movie ...
Read Full Post »
/