Shopping Cart
Your Cart is Empty
There was an error with PayPal
Click here to try again
Thank you for your business!
You should be receiving an order confirmation from Paypal shortly.
Exit Shopping Cart
FRAK EARTH
For the nerd in all of us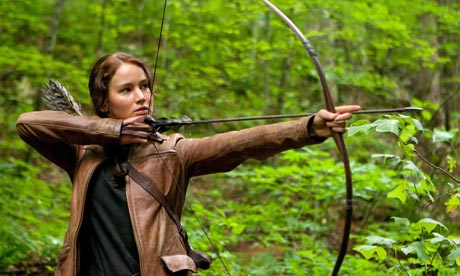 Taking a break from my comic-con obsession, Lionsgate announced yesterday that they were splitting Mockingjay, the final Hunger Games book, into two parts. The first part is set to be released on November 21, 2014 and the second part will follow a year later on November 20, 2015.
Splitting books in a popular series into two parts s...
Read Full Post »
The Hunger Games blew people away last weekend and had one of the biggest opening weekends in box office history.  But why was this movie so successful?  I've read tons of articles about how this series would actually be cooler as a movie trilogy, than a book series, which is why it did so well this weekend.  Book series like Harry Potter are a much better book series...
Read Full Post »
After seeing the amazing first trailer, we all knew that Hunger Games was going to be spectacular.  But I don'tt hink anyone could have forseen just how well the movie did this weekend.  The Hunger Games made $152 domestically, while grabbing almost $60 million in foreign theaters.  
These are crazy numbers!!!  I remember reading th...
Read Full Post »
Yes, I know The Hunger Games trailer came out last week, but I've finally had time to blog about just how awesome it really is.  I'm sure that by now, you've all had the chance to see it (hopefully multiple times).  If you haven't seen it, check it out once more below:
Read Full Post »
If you're like me and are looking for something to do, watch or read, then here's a helpful list to give you tons of awesome things to do, while you wait for the Doctor and the TARDIS to fly back onto our screens
Read The Hunger Games
The Hunger Games is a very well written triliogy that ...
Read Full Post »
Hunger Games fans are going to be thrilled to find out that Lionsgate has opted to show it's first footage of the movie this Sunday at the MTV Movie Awards!  I was really shocked when Lionsgate decided to keep The Hunger Games out of Comic-Con this year, but like most fans, I'm really looking forward to seeing the first footage!
Read Full Post »
I thought I'd take a break from my Comic-Con wrap up, and talk a little bit about all the awesome nerdy things that have happened over the last few hours.  Han rejoined Chewie, Abrams is back with Trek, Potter gets a DVD release date, and The Hunger Games releases some new stills. 
Read Full Post »
Our annual Thursday column filled with everything a geek finds awesome!
This Week is no different.
HARRY POTTER
I've gotta say, this has been the week of Harry Potter.  Empire magazine has an entire collector's issue dedicated to the seri...
Read Full Post »
 

Our annual Thursday column filled with everything a geek finds awesome. We search the Internet for news, so you that you don't have to.




This week is no different.

                     




...
Read Full Post »
As I've said before, if you haven't read The Hunger Games yet then you need to start.  Like now.  Check out this fan-made trailer that had me sitting at the edge of my seat.  Now that we've got out Peeta, Gale and Katniss ...
Read Full Post »
/